The Procedures
Breast Lift
A breast lift after pregnancy removes excess skin while tightening underlying breast contours. In some cases, the nipple is also raised to a higher position. Additionally, the areola size may be reduced if it has become stretched or oblong. The result is youthful, perky and beautiful breasts that no longer succumb to the effects of pregnancy.
Learn more
Tummy tuck
A Beverly Hills tummy tuck is the keystone of any Mommy Makeover. When excess skin has accumulated in the abdomen, it can appear loose and unflattering. A tummy tuck removes this excess skin in addition to tightening underlying muscle layers. This serves to restore a smooth, toned appearance in the tummy.
Learn more
---
Before & After Results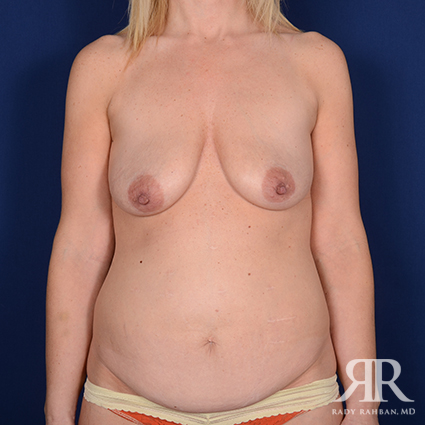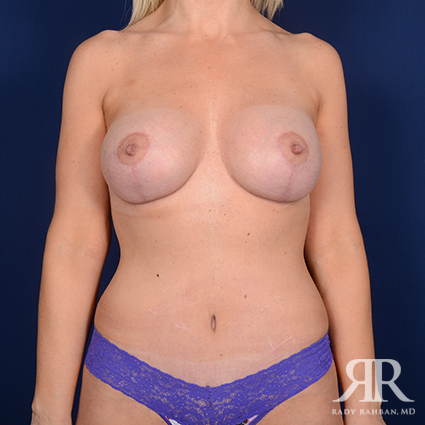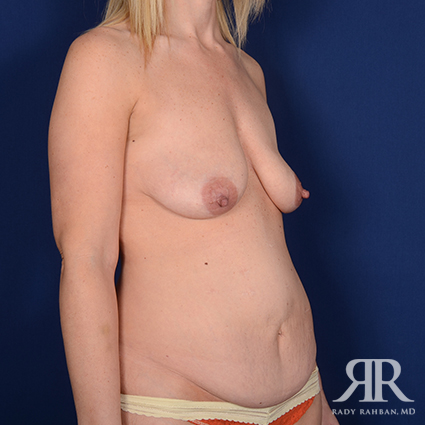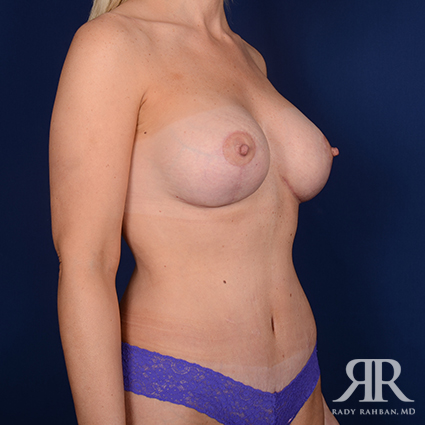 View more
---
Mommy Makeover consultation
Your mommy makeover consultation should be done by your plastic surgeon and not by his staff, such as his coordinator. In many cases, patients are offered free consultations, but you must understand that often means you'll get a hurried consult. As a point of reference, Dr. Rahban on average spends up to an hour with each patient, reviewing not only what the patient came in for, but also explaining all the nuances such as the risks and alternatives to what that patient has requested.
During your consultation, Dr. Rahban covers several crucial points. Firstly, he gathers data regarding your personal cosmetic objectives. Second, after an examination, Dr. Rahban defines the nuances of your anatomy and its limitations with regard to your mommy makeover.
Next, he lays out your options, including incision/approach options, implant types, tummy tuck options, and other factors involved in a mommy makeover. Finally, he will discuss what you can expect from your procedure, both in terms of the cosmetic result, as well as the physical and mental aspects.
As an extension of this, Dr. Rahban also reviews what patients should not expect from surgery. He is well known for telling his patients the truth and establishing a healthy level of expectation. Most patient dissatisfaction is related to inaccurate understanding and expectation of their surgery. Dr. Rahban deals in full disclosure to prevent this from occurring.
Finally, in the interest of helping his patients fully understand the procedure, Dr. Rahban will take this opportunity to review all potential risks. While some risks are quite unlikely, he still wants his patients to be aware of the potential downsides of a breast augmentation. All surgeries come with risks. Therefore, he believes the only time to engage in surgery is if the benefits far outweigh the risks. If you will only have a mild improvement, Dr. Rahban will most definitely recommend you do not undergo the procedure. Dr. Rahban feels that when a patient is highly educated on the matter, they have an easier time working together to achieve beautiful results from one of the best mommy makeovers Beverly Hills has to offer.
During a consultation, Dr. Rahban has one primary purpose—total patient education. He wants each patient to fully understand the nuances of Los Angeles mommy makeover surgery, as well as every risk and exactly how the procedure applies to them, allowing them to make the best decision for themselves. With his honest, candid approach, Dr. Rahban brings a new level of care to the complicated and confusing world of plastic surgery.